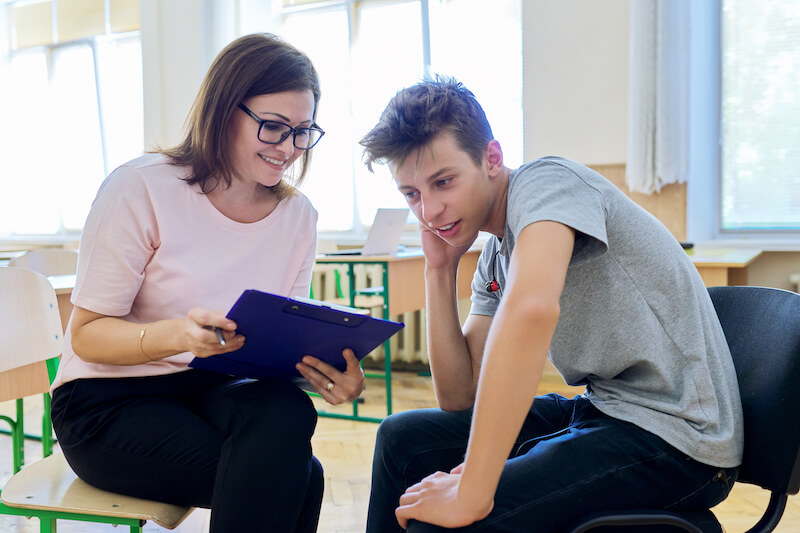 Are you considering an advanced standing Master of Social Work (MSW) degree but unsure what it is or how it differs from a traditional MSW? Do you want to learn about the educational requirements for this program and the career paths available to those who have earned an advanced standing MSW? Then this article is for you; keep reading to get more insight into what it means to pursue an advanced standing program and much more vital information.
What Is an Advanced Standing MSW?
An advanced standing program is a specialized Master of Social Work (MSW) degree that allows students with a bachelor's degree in social work to complete their studies more quickly. Students enrolled in an Advanced Standing program can generally finish their MSW within one year, compared to the two or three years it usually takes to complete the general MSW program. This is possible because Advanced Standing credit is awarded for the social work courses students have completed as part of their undergraduate program.
The primary purpose of an advanced standing program is to allow qualified individuals to pursue a higher level of education without having to start over with their studies altogether. This means they can save time and money while still obtaining the knowledge and skills necessary to become an effective social work practitioner.
To be eligible for an advanced standing program, students must have earned a bachelor's degree in social work from an accredited institution. They must also submit transcripts demonstrating satisfactory completion of core courses as mandated by the Council on Social Work Education (CSWE). These courses typically include human behavior, social welfare policy, and professional ethics.
In addition to the already completed curricula, advanced standing students must complete several additional courses before they graduate from the program. These usually include classes in clinical practice, research methods, and administrative roles in social work organizations.
As part of the advanced standing program experience, students are expected to participate in a supervised clinical field practice or internship during their final semester. This experience allows students to apply the skills and knowledge acquired in school to real-world settings. Under the guidance of experienced practitioners, advanced standing students can gain valuable experience and hone their skills as social workers.
Upon graduating from an advanced standing program, students are eligible to take the Association of Social Work Boards (ASWB) exam to become licensed social workers. This is the same exam required by other MSW programs, and successful completion allows individuals to practice professionally in their state.
Who Is a Candidate for an Advanced Standing MSW?
An advanced standing program provides unique opportunities for career advancement, higher pay, and even specializations that can put you ahead of other applicants. But before embarking on this journey, it is essential to determine if an advanced standing program can work with your current educational background and lifestyle. This is how to know you are a potential candidate for an advanced standing program.
You have a BSW degree
The most basic requirement for an advanced standing program is that you must already possess a Bachelor of Social Work (BSW) degree from an accredited program. The BSW should be completed within the last five years and show satisfactory grades, with at least a 3.0 GPA in your social work courses.
You desire to further your education
To be considered for an advanced standing program, you must have a desire to further your education in the field of social work. This includes having strong interests and goals in advancing your career, increasing your knowledge base, and achieving higher employment levels within the profession.
You are in possession of relevant field experience
Though not a requirement, many advanced standing programs may offer preference to applicants with some field experience in social work. This could include previous internships or volunteer experiences demonstrating your knowledge and understanding of social work principles and practices.
Suppose you already possess a social work license, such as the Licensed Social Worker (LSW) or Licensed Clinical Social Worker (LCSW). In that case, this can make you an even more attractive candidate for the advanced standing program. This is because having current licensure lets admissions staff know you are serious about advancing your career and investing in your education.
You hold a desire to pursue specializations
Advanced standing programs allow you to specialize in specific areas of study or focus on certain populations, such as children or families. These specializations can open the door to even more opportunities and higher salaries upon graduation, so having an interest in pursuing these studies can make you a more desirable candidate.
You have the ability to work under pressure
Earning an advanced standing degree requires dedication and the ability to work under pressure. This means that you must be able to manage multiple tasks and assignments at once, while maintaining a high level of professionalism and attention to detail.
You show leadership potential
If you have demonstrated leadership skills or actively seek new ways to lead, this can give you an advantage when applying for an advanced standing program. Being able to think outside the box and take initiative in problem-solving tasks are essential traits that admissions staff look for in potential candidates.
A solid understanding of ethical principles is essential for those pursuing an advanced standing program. Showing that you can apply these concepts to your work and advocate for others is necessary for being admitted into the program.
You have well-rounded experience
Admissions staff want to ensure you have a well-rounded experience and background when applying for an advanced standing program. This means showing that you are open to different ideas, cultures, and backgrounds and being willing to learn from others.
You possess a commitment to the field
Above all, a commitment to social work is essential for those seeking an advanced standing program. Through your education and experiences, this means demonstrating your passion for helping others solve a problem and advancing your knowledge in this area.
What to Expect from an Advanced Standing MSW
The last thing you want to do is start a master's degree without knowing what to expect. An advanced standing program can be challenging, but with the right preparation and understanding of the course structure, you can succeed in achieving your desired results. The following is an overview of what you should expect by choosing to pursue an advanced standing program.
Admissions
Before you can begin your advanced standing program, you will need to apply and be accepted by the institution offering the program. Admissions requirements vary from school to school but typically students must have an undergraduate CSWE accredited degree in social work or a closely related field such as psychology or sociology. In fact, some institutions do not require GRE scores, while others request that applicants provide a personal statement.
Also, many schools may require students with non-social work backgrounds to take additional courses in social work practice before starting the advanced standing track. These courses are designed to provide a stronger foundation in social work knowledge and skills so that these students will be better prepared for their graduate-level courses.
Additionally, reciprocity agreements between social work boards are important when applying for an advanced standing program. These agreements allow students who hold a social work license from one state to be able to practice in another without having to obtain a separate license in the new state. However, some states still need to have reciprocity agreements with others, which could be a challenge when applying for an advanced standing MSW program.
Besides, some institutions may require a GPA of 3.5 or above in your undergraduate studies and a minimum cumulative GPA of 3.0 in all social work courses taken during the undergraduate program. But specific requirements will depend on the school and program you are considering.
Curriculum
The advanced standing program typically takes one to one and a half years to complete. During this time, you will be required to take core classes (required by all students) and specialized courses in social work practice that focus on a particular area of the field.
Commonly, these areas include clinical practice, administration and management of social services, and policy analysis. Additionally, you may be required to complete a field internship or practicum to gain real-world experience.
Course load
The course load for an advanced standing program can vary from school to school. Generally, students take at least one year to complete the program. In an advanced standing program, you should expect to spend a significant amount of time studying and completing assignments outside of class. To be successful in the program, you must be willing to dedicate yourself to the coursework and manage your time wisely.
You may be able to complete some certificates or specialization courses in the same amount of time it would take to complete your MSW. For example, you may be able to complete a certificate in gerontology or trauma-informed practice in as little as one semester. But most institutions limit the number of certificates you can take simultaneously with your advanced standing program.
Field placement
Advanced standing programs often include a field placement component. This is an opportunity for you to gain real-world experience in a professional setting. The field placement typically requires that students work in the field with supervision and guidance from experienced professionals.
The field placement allows you to apply what you have learned in class to real-world scenarios and gain skills and knowledge that can be applied to your future career. Also, it can provide valuable networking opportunities and exposure to potential employers.
Salary and Job Outlook
After completing your advanced standing program, you will be qualified to apply for jobs in a range of industries. The median annual salary for social workers in May 2021 was $50,390, with the lowest 10% earning less than $36,520 and the top 10% earning more than $82,840, according to the U.S. Bureau of Statistics.
Furthermore, from 20121 to 2031, employment opportunities for social workers are anticipated to expand by 9%, which is greater than the average growth rate for all occupations. In the end, you will be well-prepared to work in many contexts and take advantage of the numerous employment prospects accessible in this profession if you have an advanced standing MSW.
For instance, the U.S. Bureau of Statistics data indicated that you might make an average income of $60,840 as a hospital social worker. Alternatively, your typical yearly salary will be about $49,150 if you choose to work as a child, family, or social worker. The typical yearly salary for a social worker specializing in mental health or drug abuse is $49,130.
Additionally, a career in the public sector may be quite rewarding based on findings of the U.S. Bureau of Statistics. For instance, the typical annual salary for local government social workers, excluding those working in education and hospitals, is $61,190, while the yearly salary for those employed in ambulatory healthcare services is around $58,700.
Next Steps
At the end of the day, an advanced standing program is a great opportunity for those seeking to become successful social workers. This program provides valuable knowledge and skills that can be applied in multiple contexts. Finally, pursuing an advanced standing program can also lead to higher salaries and better job prospects. If you are committed to helping others and ready to work hard, an advanced standing MSW program may be the perfect fit for you.