How to Become a Military Social Worker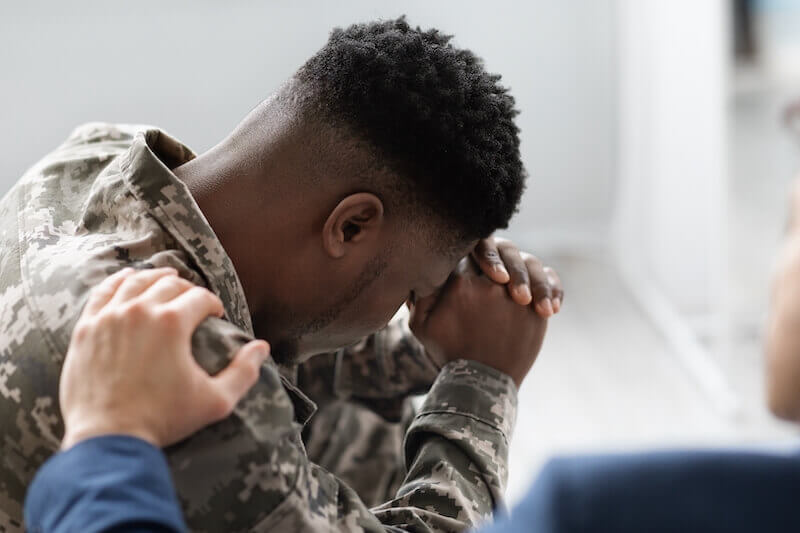 Are you someone interested in using your skills and talents to make a difference in the world? If so, becoming a military social worker could be your perfect social work career. For those looking to combine their love of service with supporting members of the armed forces, military social work offers an opportunity to do both.
By combining counseling services with policy and practice, military social workers provide vital assistance to active-duty personnel and their families through innovative care models that help promote successful personal finances, mental health services, benefits coordination, and more. This blog post discusses how to become a military social worker.
What Is a Military Social Worker?
Military social workers are professionals who provide support and assistance to service members, veterans, and their families. They may specialize in various areas such as mental health, healthcare, substance abuse, financial counseling, employment services, family and marriage therapy, or other types of social work practice. Military social workers help individuals cope with the stress caused by military-related issues such as deployment, combat, and transition to civilian life. Moreover, they aim to help service members become more productive and successful after service.
A practical work scenario for a military social worker might involve counseling veterans experiencing post-traumatic stress disorder, helping families affected by frequent deployment cycles, or assisting service members in transitioning back into civilian life. Military social workers must be certified and able to identify various therapy treatments that may benefit the individuals they serve.
Also, military social workers must be knowledgeable about the unique challenges that service members face and understand the impact war can have on families. This understanding helps them provide the best care possible and ensure that service members can successfully transition back into civilian life.
Career Outlook
The job outlook for military social workers is vital. The U.S. Department of Defense estimates that employment in this field will increase significantly in the coming years due to the increasing demand for mental health services by veterans, active-duty members, and their families or loved ones.
As a military social worker, you can make a real difference in the lives of service members and their families, a priceless reward. Issues such as deployment, loss, family, and combat injuries can be challenging to cope with, and you can help these individuals work through their struggles. You can also assist them in accessing resources that will enable them to make positive changes in their lives.
Besides, the U.S. Bureau of Labor Statistics projects employment of social workers, in general, to grow 9 percent from 2021-2031, much faster than the average for all occupations. Consequently, 74,700 employment openings will be available for social workers in the next ten years.
The pay for military social workers varies widely depending on rank, experience, and the branch they serve. According to the U.S. Bureau of Labor Statistics, social workers (and all other) in the armed forces earned a median annual salary of $61,190 in 2021. In addition to wages, military social workers also receive benefits such as health care and housing allowances.
Moreover, military social workers can take advantage of the professional development and career advancement opportunities available through the military. They may be eligible for promotion to higher-ranking positions with increasing responsibility and salary. Those interested in becoming a military social worker should consider the educational requirements, physical fitness requirements, and unique training opportunities offered by each branch of service.
Military Social Worker Salary
If you're considering a career as a military social worker, it's essential to understand the salary that comes with such a prestigious position. According to the U.S. Bureau of Labor Statistics, military social workers can earn an annual base salary ranging from $46,000 to $61,000, depending on their education level, specialization, and the employer.
For example, the data provided by the U.S. Bureau of Labor Statistics shows that those social workers working with the local government earned an average of $61,190 in 2021. In contrast, mental health and substance abuse social workers made around $49,130. Social workers employed by state governments, excluding education and hospitals, earned an average salary of $48,090. Meanwhile, those working in individual and family services made around $46,640 annually during the same period.
In addition to a competitive salary, military social workers may receive benefits such as health insurance and retirement plans. In addition to a base salary, military social workers may receive benefits such as housing allowance, food allowance, retirement pay, and more. Also, bonuses may be available depending on qualifications, certifications, specializations, and certain types of service. Other bonuses may be awarded based on performance or mission-specific tasks.
Furthermore, military social workers may also receive other forms of compensation, including special pay for hazardous duty assignments, awards, separations pay, moving allowances, and more. The social workers may also qualify for educational benefits such as tuition assistance or loan repayment programs. This means that you'll be helping people in need and ensuring your financial security.
How to Become a Military Social Worker
Are you wondering how to become a military social worker? It's possible, and here's what the National Association of Social Workers (NASW) requires you to have regarding education qualifications.
1. Pursue a Bachelor of Social Work (BSW)
You'll need to complete a program accredited by the Council on Social Work Education (CSWE) to get your BSW and become a social worker. Related fields of study such as psychology, sociology, or anthropology may be accepted in some cases, but the BSW is the most common degree needed. It typically takes four years to complete the program. Besides, most states require you to have this degree as a beginner.
With BSW, you can work in the military as a social worker, but if you want to move up in the ranks and have more responsibilities, then getting an MSW is the way to go. Areas you can handle with a BSW include family counseling, case management, or research with veterans.
2. Pursue a Master of Social Work (MSW)
The MSW will give you more advanced social work knowledge and skills than the BSW. This extra education will be helpful when dealing with complex cases or performing administrative roles such as program development.
Areas of practice you can do in the military with an MSW include psychotherapy, medical social work, and policy or program evaluation. Any extra certifications Doctor of Social Work (DSW) or Ph.D. in Social Work, can also give you an edge in military social work.
3. Complete Internships and Fieldwork Requirements
Most social work programs require students to do a specific minimum of hours of fieldwork to work in a particular state. Additionally, it's beneficial to seek out internships in a military setting during this time, such as with veteran services, counseling centers within the base, or Family Support Centers.
It would be beneficial if you could find internships related to military settings, such as the Department of Veterans Affairs (VA), counseling centers within the base, Family Support Centers, or other nonprofit organizations relevant to the field. This will give you hands-on experiences essential for your future career in military social work.
4. Get Licensed and Certified
Every state requires its social workers to obtain licensure before they can practice, so ensure you meet your state's requirements. You must pass a licensure exam and a bachelor-level social work examination. Additionally, the military may favor those with relevant state-specific certifications, such as Certified Social Work Case Managers (C-SWCM) or Licensed Clinical Social Worker (LCSW).
With a license, you can confidently seek employment in various military settings to practice as a social worker. Additionally, staying current with continuing education requirements and keeping your license active is vital to remain eligible for employment as a military social worker.
Day in the Life
A typical day as a military social worker provides support and counseling to service members and their families. You need to be familiar with the military's organizational structure, understand different branches of service, and know about the programs available for veterans.
For instance, you may be asked to provide case management services for a veteran transitioning from active duty to civilian life. You'll help them locate resources, such as educational programs and housing options, and connect them with counselors and support groups.
In addition to assisting individuals, you may also be called upon to give presentations on military culture or host workshops on topics like post-traumatic stress disorder for military personnel and their families.
Sometimes you'll spend your day in the office, sorting through paperwork and writing reports. Other times, you might be in the field conducting interviews or providing outreach services to military members living in rural areas.
Also, you'll be required to attend regular meetings with the other military social workers, supervisors, and commanders to discuss current cases or any changes that are being implemented.
Moreover, based on your experience, you may mentor the new social workers joining the team, sharing their expertise and knowledge with them. This will also be an excellent opportunity to help them understand military life and provide better services to the members.
No matter the specifics of your day, working as a military social worker can be challenging and rewarding. You'll have the unique opportunity to serve those who serve the country while also providing much-needed assistance in difficult times. It's an honor to make a difference in the lives of service.
Licensure, Certifications and Continuing Education
Becoming a military social worker requires passing certain certification and licensure requirements. You must have a BSW or an MSW degree from an accredited school, pass the Association of Social Work Boards (ASWB) clinical licensure exam, and obtain your state-specific license to practice. You must also become licensed by the ASWB.
Besides, each state may have other requirements, such as taking additional courses or completing an internship in a military setting. You can check with your state's board of social work to find out what else is needed. Remember that to work in a particular state, you must be licensed.
Moreover, reciprocity agreements exist between most states, so if you have a license from one state and want to work in another, you may only need to go through part of the process. But you need to check with your state's board for more information.
Continuing Education (CE)
Once you have passed all the requirements, you must gain continuing education (CE) credits (CE) to stay up-to-date on military social work practice. Continuing education is also essential to maintain your licensure and certification. The Department of Defense offers many CE opportunities for its Military Social Work Practice Specialization Program, including training and seminars. Private organizations such as the NASW or the Red Cross provide specialized training programs.
These CE may be taken in person at local military bases or online through webinars, conferences, and other courses. In addition to CE, you must complete annual training programs related to military social work practice to stay current on any changes or updates within the profession. Once you have met these requirements, you can officially become a successful military social worker.
Getting Started
Overall, military social work is an essential and growing field that offers challenging and rewarding opportunities to those passionate about serving military members. Becoming a successful military social worker requires obtaining licensure, certifications, and continuing education credits. Additionally, gaining experience researching programs and resources for service members is essential to understand better and serve those serving our country. With the right qualifications, you can make a difference in the lives of those who have sacrificed so much for us.
If you are just starting your education search, inquire with a few programs so you can compare what they offer.