Social Justice Organizations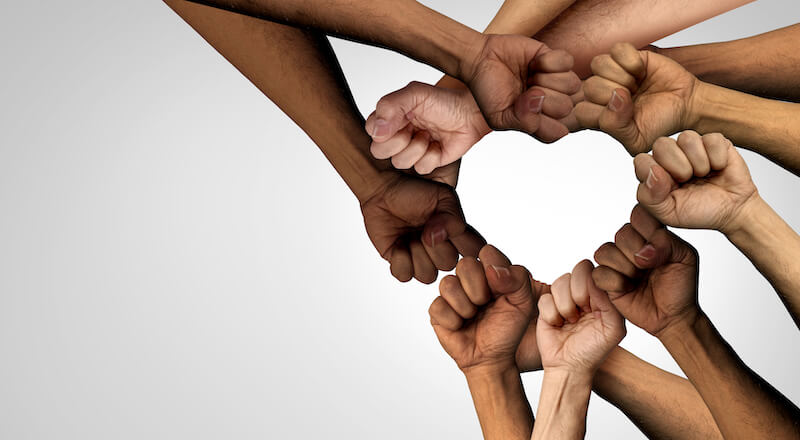 Since 2014, we've been maintaining a list of important organizations for social justice, and we have recently added new organizations and causes, including for Dreamers, Women's Rights and more. 
Social justice is based on five key principles: Human Rights, Equity, Diversity, Participation and Access to Resources. There are different types of social justice, like social justice education, that ensure there is equity, inclusion, mutuality and generosity in places like the classroom, democratic societies and elsewhere. 
The organizations below work to solve problems of inequity, and work toward fair treatment of all in society. Some specialize in children's rights, while others work trying to solve issues of health inequity. If you are looking to get involved in social justice, this list of 100 organizations is a great place to start. If their mission feels too big, use their resources to start your own social justice organization on a smaller scale in your community.
Civil Rights and Community Organization
ACLU 
Founded in 1920, the ACLU is one of the oldest social justice organizations in the world. It defends and protects the civil liberties of all people.
Amnesty International USA
Amnesty International looks for ways to limit and reduce human rights violations around the world. This organization opened in 1961.
Human Rights Watch
Human Rights Watch brings attention to human rights and social justice issues in major companies. The organization grew out of the Helsinki Watch, which started in 1978.
Southern Poverty Law Center
The Southern Poverty Law Center opened in 1978. Members now identify and bring attention to hate groups and hate crimes.
International Organization for Migration
A branch of the United Nations, the International Organization for Migration looked for ways to help immigrants and refugees since opening in 1951.
Native American Rights Fund
Since opening in 1970, Native American Rights Fund provided Native Americans with free legal resources to get the support they needed.
National Action Network
Reverend Al Sharpton established the National Action Network in 1991 to help others fight for and receive the civil rights they deserve.
National Urban League
The National Urban League wants to change the lives of those living in urban areas with community improvements. It began in 1910.
National Council of La Raza (NCLR)
UnidosUs is the new name of the NCLR, which launched in 1968 to advocate for changes in immigration and other government policies.
Organization of Chinese Americans
Established in 1971, the Organization of Chinese Americans offers programs and resources for Pacific Islanders and Asian Americans who need help.
National Council of Negro Women (NCNW)
The National Council of Negro Women (NCNW) opened in 1935 and now has different branches focused on helping African American women.
National Congress of American Indians (NCAI)
Alaskan Natives and American Indians sought help from the NCAI since its founding in 1944. It now focuses on improving and changing specific policies.
League of United Latin American Citizens (LULAC)
The LULAC is the oldest Latin American organization in the country. Founded in 1929, it focuses on improving Hispanic civil rights.
Race Forward
Since 1981, Race Forward has hosted an annual conference and ran programs in an attempt to expose racism and change the way others think.
Political Research Associates (PRA)
The PRA brings attention to social justice issues and works with government organizations. It opened in 1981 with a focus on right-wing politics.
Alliance for Justice
Since 1974, the Alliance for Justice hoped to change courts and politics in general to benefit all people but especially the disadvantaged.
Center for Media Justice (CMJ)
Established in 2008, the CMJ uses media as a way to get people talking about the most important social justice issues in the world.
National Fair Housing Alliance (NFHA)
Congress created the NFHA in 1934. It now looks for ways to get more people off the streets and into the homes they deserve.
American Association for Affirmative Action (AAAA)
Now called the American Association for Access, Equality, and Diversity, the AAAED opened in 1974 with the idea in mind of helping people of color gain more opportunities.
Project Equality
Project Equality looks at ways to help people of color and others end racial injustice. This organization opened in 1965 and brings attention to modern issues.
The Praxis Project
The Praxis Project works with communities on social justice and injustice issues and helped millions of people since opening in 2002.
Sojourners
Sojourners is a group of ministries that work in disadvantaged and impoverished communities to find solutions to justice challenges through their shared faith. They came together in 1971.
Coalition on Human Needs
​​The Coalition on Human Needs shows others how they can get involved in helping vulnerable people. The organization opened in 1981.
Creighton Center for Service and Justice
Founded in 1983, the Creighton Center for Service and Justice sends university students to locations around the world annually to give back to those in need.
Direct Action and Research Training Center (DART)
DART began its efforts in 1981 and consists of grassroots organizations committed to justice and fairness. They launch new programs every year.
Civic Practices Network
The Civic Practices Network uses grassroots initiatives to increase the access certain groups have to higher education. It opened more than 10 years ago.
National Alliance to End Homelessness
​​Established in 1983, the National Alliance to End Homelessness looks for ways to improve the lives of homeless people and get them access to housing.
USAction
The U.S. Commission on Civil Rights continues the efforts to identify human rights violations and similar problems that it did after opening in 1957.
Industrial Areas Foundation (IAF)
Community and religious organizations created the IAF in 1940 as a way to foster development and improve the lives of others.
Social Justice Leadership
The Leadership for Democracy and Social Justice has more than two decades of fostering the next generation of leaders and keeping them engaged in their communities.
National Civic League
Founded in 1894, the National Civic League offers community assistance to boost civic engagement and make sweeping changes.
National Criminal Justice Association
The NCJA offers training programs and hosts events to bring awareness to criminal injustice. Its programs changed a lot since its founding in 1971.
United We Dream
United We Dream helps dreamers and other immigrants gain the support they need. This organization began in 1999 after its founder noted some big policy changes.
Lawyer's Committee for Civil Rights Under Law
Founded in 1963, the Lawyer's Committee for Civil Rights Under Law features lawyers working to change laws and policies, such as digital justice.
Women's Rights Groups
Institute for Women's Policy Research (IWPR)
Since 1987, the IWPR researched women's issues and shared its research as a way to implement much-needed policy changes and laws.
National Women's Law Center (NWLC)
Some of the issues highlighted by the NWLC include abortion, gender inequality, and child care. Women established the organization in 1972.
Girls Inc.
Girls Inc started as an organization to help young women in 1861. It now offers women and girls a safe space to talk about their future goals.
Center for Women Policy Studies (CWPS)
Established in 2018, TIME'S UP uses the #MeToo movement to encourage sexual harassment victims to share their experiences and seek help.
Code Pink
Code Pink encourages women to work together to challenge the government and bring attention to new social justice campaigns.
Ms. Foundation for Women
Ms. Foundation for Women offers grants, resources, and info to help women make healthy changes in today's world. It has launched many programs since its founding in 1972.
Madre
Founded in 1983, MADRE goes above and beyond to help anyone with sustainable goals about gender, racial, and other forms of injustice.
Global Fund for Women
Global Fund for Women was launched in 1987 as a way to increase the amount of charitable donations that reach women and girls in need.
Legal Momentum
In 1970, a group of women came together to form the Women's Legal Defense and Education Fund, which continues to help end inequality between the sexes.
Women's Law Project
Since its founding in 1974, the Women's Law Project assisted women and LGBTQ+ people with legal defenses in Pennsylvania and other states.
National Coalition for Women and Girls in Education (NCWGE)
Established in 1975, the NCWGE supports women and girls in their educational endeavors. The organization often challenges schools across the nation.
International Women's Rights Active Watch (IWRAW)
IWRAW is an organization devoted to helping women around the world get the rights they deserve. It started its efforts in 1985 and continues today.
National Women's Liberation
The NOW started in 1966 to encourage feminists to work together to help women achieve equality and get more rights guaranteed by national and local laws.
Equality Now
Established in 1992, Equality Now works with others to challenge laws and policies in the hopes of fostering social change.
Health Rights and Advocacy
UNAIDS
Founded in 1994 in response to the HIV/AIDS epidemic, UNAIDS helps civilians and governments support those diagnosed with the disease, especially children.
The International AIDS Society
The International AIDS Society started as part of the International AIDS Conference in 1988. It offers support to patients and works with policymakers to change laws.
The Global Fund
Established in 2002, The Global Fund accepts donations that it uses to pay for new programs to raise AIDS awareness and help patients in multiple countries.
AMSA Health Equity and Justice
The AMSA Health Equity and Justice provides grants and other financial programs to students in public health who agree to work for health equality. This program launched during the COVID pandemic.
Healthy Child, Healthy World
A married couple created Healthy Child, Healthy World after their daughter passed away to make children healthier through policy changes and parental education.
AIDS Research Alliance
AIDS Research Alliance includes doctors and other professionals who want to find a cure for AIDS. Doctors formed the organization in 1989.
Kaiser Family Foundation
Founded in 1948, the Kaiser Family Foundation polls the general public and supplies resources and stats to anyone with an interest in health politics and laws.
Public Welfare Foundation
Charles Edward Marsh founded the Public Welfare Foundation in 1947 to solicit donations for programs that improve the welfare of the general population.
American Public Health Association (APHA)
Since 1878, the APHA researched communicable diseases and sought to make major changes to healthcare laws and policies.
Elder and People with Disabilities Advocacy
Mental Disability Advocacy Center
​​Founded in 2002, the Mental Disability Advocacy Center is a human rights organization that focuses on helping the disabled achieve their basic rights.
Disability Rights Advocates (DRA)
Disability Rights Advocates include multiple attorneys, some of whom joined when it opened in 1993. They advocate for stronger human rights for disabled people.
Elder Law and Advocacy
Based out of San Diego, Elder Law and Advocacy is a group of lawyers who help older people understand the legal system and their rights. Many lawyers worked here since 1978.
Disability Rights International
Eric Rosenthal formed Disability Rights International in 1993. His group promotes human rights, especially among the disabled who cannot fight for themselves.
Gray Panthers
The Gray Panthers opened in 1970 under the guidance of Maggie Kuhn and argues against ageism and for increasing the available rights for seniors.
National Council on Aging 
​​Founded in 1950, the NCOA is the oldest nonprofit organization dedicated to helping people earn and maintain their human rights as they age.
ADAPT
ADAPT has 30 associated groups and chapters in the United States. Since 1983, ADAPT has advocated for accessible features on public transportation and other needs for disabled people.
Autistic Self Advocacy Network
Members began joining the Autistic Self Advocacy Network in 2006 to help those on the autism spectrum and their loved ones lobby for their needs.
National Organization on Disability
Alan Reich founded the National Organization on Disability in 1982 and continues promoting the need for more disabled rights around the world.
ARC Association for Real Change
ARC is a British organization in London that started in 1982 and now looks for ways to help and support students and others with learning disabilities.
National Disability Rights Network (NDRN)
Established in 1980, NDRN is home to many professionals who want to increase the rights of disabled people and ensure they know their rights.
Disabled in Action
Located in NYC since its founding in 1970, Disabled in Action hosts events and run programs to reduce the discrimination that disabled people face.
Rolling Rains Report
The Rolling Rains Report talks about the challenges facing disabled travelers and what companies can do to make their trips more enjoyable and comfortable.
Elder Justice
Passed through the legislature in 2010, the Elder Justice helps those of an advanced age find housing and other resources while following the Elder Justice Act.
Diverse Elders Coalition
The Diverse Elders Coalition advocates for Alaskan Natives, American Indians, and LGBTQ+ elders. It gained some traction since forming in 2010.
The Elder Justice Coalition
Founded in 2010 at the same time as the Elder Justice Act passed, The Elder Justice Coalition consists of more than 3,000 members helping older with their legal and other needs.
Children and Human Rights Advocacy
International Justice Mission
International Justice Mission brings attention and awareness to both law enforcement and human rights. Gary Haugen founded the organization in 1997.
Human Rights Campaign (HRC)
Known for its blue and yellow logo, the HRC has lobbied the government for major policy changes and drawn attention to human rights issues since 1980.
Stand for Children
Stand for Children believes every child has the right to education. It looks for ways to expand access and support students since opening in 1996.
Children's Rights
Children's Rights holds governments accountable for childhood rights violations and works with parents and teachers. This organization encourages others to empower kids.
Teen Talking Circle Project
The Teen Talking Circle Project was the 1993 brainchild of Linda Wolf. Teens use historic methods to talk about challenges and issues with adults and other teens.
Children's Justice Conference
Established in 1987, the Children's Justice Conference meets every year to find solutions to prevent and stop all forms of abuse towards kids.
Center for Children and Youth Justice
A Washington Supreme Court Justice founded the Center for Children and Youth Justice in 2006 to change the lives of children through justice and foster care reform.
Defence for Children International 
DCI believes in protecting the rights of kids through a variety of means. The organization has launched new programs annually since 1979.
The Annie E. Casey Foundation
The Casey siblings founded the Annie E. Casey Foundation in 1948 in honor of their mother to improve the lives of American children and teens.
Children's Defense Fund (CDF)
CDF grew out of the Washington Research Project, founded in 1973, and now researches childhood topics and advocates for kids across the country.
The Child Advocate
Founded in 2000, The Child Advocate consists of lawyers, parents, and others who help children obtain and maintain the rights granted to them under the law.
Foundation for Child Development (FCD)
The FCD is an old nonprofit organization. Since 1899, it looked for ways to help developing children and improve their lives through new programs and policies.
First Star
Those behind First Star created the organization in 1999 with the idea of helping child abuse victims both recover and move on from their abuse.
Policing and Detention Advocacy
Just Detention International
Founded in 1980, Just Detention International strives to end sexual abuse in prisons and jails and is the only organization of its type in the world.
Innocence Project
The Innocence Project started in 1992 as a branch of a New York law school and helps inmates prove their innocence and obtain release from prison.
Justice Policy Institute (JPI)
With a focus on detention centers of all types, the Justice Policy Institute hopes to change the penalties given to them and did so since its founding in 1997.
American Society of Criminology 
Located at the Ohio State University, the American Society of Criminology studies crimes in the hopes of reducing recidivism rates. It's been in operation since 1941.
Justice Research and Statistics Association (JRSA)
Established in 1976, the Justice Research and Statistics Association (JRSA) consists of researchers tasked with studying, analyzing, and sharing criminal justice information.
Justice for All
Justice for All is an initiative that wants to help increase the response to criminal justice issues through new forms of technology and modern programs. it works with other foundations and organizations.
Prison Policy Initiative
Peter Wagner is one of the men who founded the Prison Policy Initiative in 2001 to show the public the greater effect the prison system has on the country.
Futures Without Violence
Futures Without Violence is a domestic violence nonprofit that supports victims of all ages. It has helped many men, women, and kids since 1980.
Just Policing
Just Policing grew out of a book published in 2022 and wants to reform the police and law enforcement field as a whole.
LGBTQ+ Advocacy
Advocates for Youth
Since 1980, the Advocates for Youth focused on educating teenagers and young people on healthy sexual habits and fostered government change.
Soulforce
SoulForce documents sexuality oppression around the world and offers solutions to fix some of the problems it finds. Its history dates back to 1998.
The Williams Institute on Sexual Orientation Law and Public Policy
The Williams Institute on Sexual Orientation Law and Public Policy is an organization founded in 2001 that researches sexuality and similar topics and shares its data with other organizations.
Parents, Families & Friends of Lesbians and Gays (PFLAG)
Founded in 1973, PFLAG features parents and loved ones in the LGBTQ+ community who want to get help and/or help others.
Gay and Lesbian Alliance Against Defamation (GLAAD)
GLADD was founded in 1985 to change LGBT representation in the media. It now recognizes some of the industry's top productions every year.