How to Become a Mental Health Social Worker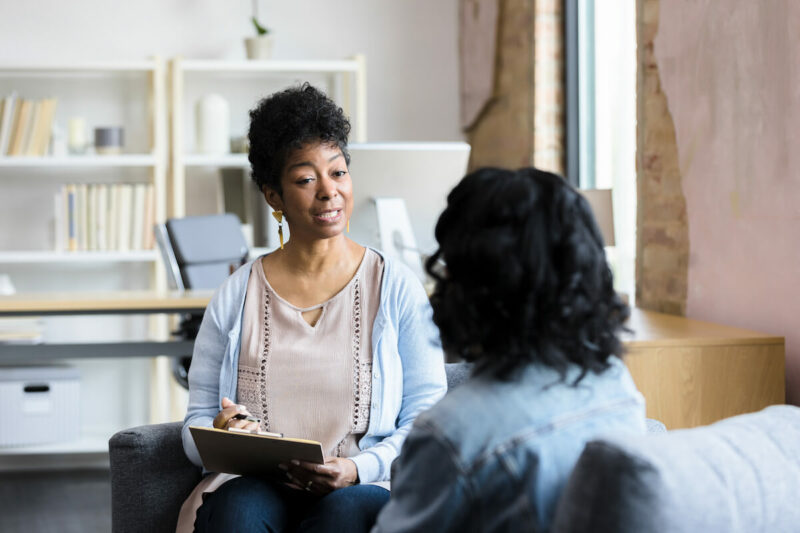 Are you passionate about helping others overcome mental health issues? Are you interested in a career in social work and providing meaningful assistance to those struggling with mental illnesses? If so, becoming a mental health social worker may be the right path for you.
Mental Health Social Work is one of the most essential jobs available today as it provides invaluable support to individuals suffering from depression, anxiety, bipolar disorder, PTSD, addiction, and more. This article outlines the qualifications needed to become a successful mental health social worker and other vital information about the profession.
What Is a Mental Health Social Worker?
A mental health social worker provides support, counseling, and resources to individuals and families with mental health issues.
Mental health social workers do a lot. Here are just some of their specialties:
Assess their client's emotional and psychological needs
Provide individualized treatment plans
Work with other healthcare professionals to develop strategies for improved mental well-being
Educate their clients on managing stress and promoting healthy behaviors
They may facilitate group therapy sessions
Provide crisis intervention
Help to connect families with community resources
Consequently, aspiring mental health social workers should be interested in helping others, problem-solving skills, excellent communication skills, and emotional intelligence. They should also be knowledgeable about mental health disorders, can build relationships with clients, and understand their cultural backgrounds and values.
Mental health social workers must possess strong communication and interpersonal skills and a deep understanding of the psychosocial factors affecting mental health. They must also have knowledge of evidence-based therapies, crisis intervention techniques and an ability to develop therapeutic relationships with their clients.
Note that licensed mental health social workers typically have at least a master's degree in social work but may also hold degrees in counseling or psychology. An extra certification can be a bonus, and some states also require continuing education credits to maintain licensure. After obtaining the necessary educational credentials, a mental health social worker must gain experience and pass a licensing exam administered by the state where they practice.
Career Outlook
Those interested in becoming a mental health social worker can look forward to a rewarding career helping individuals struggling with mental and emotional disorders. According to the U.S. Bureau of Labor Statistics, Jobs for social workers specializing in mental health and drug addiction are anticipated to increase by 22% between 2021 and 2031. Also, over the next ten years, there are expected to be, on average, 43,600 vacancies for drug misuse, behavioral problem, and mental health counselors every year. Consequently, a mental health social worker is a great career choice for people seeking stability and development potential because this growth is substantially quicker than the average for all occupations.
Mental health social workers counsel and support people with mental disorders. They help patients adjust to their illness, develop coping strategies, and work through issues related to their condition. Mental health social workers also connect clients with resources in the community like housing, healthcare services, or other forms of assistance.
The work setting and responsibilities of a mental health social worker vary depending on the type of client and the size of the practice. Many mental health social workers are employed in clinics, hospitals, schools, private practices, and community agencies. In some settings, they may provide individual or group counseling sessions; in others, they may coordinate services for their clients or manage teams of other social workers.
Additionally, mental health social workers must be highly skilled in communication, empathy, and problem-problem-solving and actively assist their clients. They need to understand the dynamics of human behavior and mental illness and how to address client needs appropriately. Professional experience and licenses may also be required depending on the state where they practice.
Salary
You may wonder how much money you can make in such a rewarding and demanding mental health social worker profession. Salary is an essential factor to consider when looking for any job, as it enables you can make an informed decision about where you can work for the best pay and benefits. Understanding this field's various salary ranges across the diverse social work specialty is vital. Here is an overview of the salaries of mental health social workers nationwide.
According to the U.S. Bureau of Labor and Statistics, mental health social workers earn an average annual wage of $48,520. However, the lowest 10 percent of earners make less than $30,870 annually, while the highest 10 percent make more than $77,980 annually. The median annual wages for mental health social workers vary based on industry.
For example, the U.S. Bureau of Labor and Statistics findings show that government workers earned $60,450. In contrast, those working in hospitals (state, local and private) earn an average of $49,630 annually. Similarly, those employed in individual and family services make $47,940 annually. In addition, mental health social workers working in outpatient mental health and substance abuse centers have a median annual wage of $47,550. Lastly, those working in residential mental health and substance abuse facilities earn an average yearly salary of $42,900.
How to Become a Mental Health Social Worker
If you're passionate about helping people with mental health issues, a career as a Mental Health Social Worker could be what you're looking for. Becoming this kind of social worker involves both education and experience that can help lead to job satisfaction and provide an opportunity to make a real difference in the lives of others. With a suitable knowledge base, skill set, and awareness, along with inspiring examples of those who have made it possible, becoming a mental health social worker is within reach. These are the steps of how to become a mental health social worker.
1. Acquire Quality Education
The first step to becoming a mental health social worker is obtaining the appropriate educational background. Typically, this involves completing either an undergraduate or graduate degree in social work. As a beginner, you must pursue a baccalaureate degree in Social Work (BSW) or a related field such as psychology or counseling.
Alternatively, if you already have a bachelor's degree in another field, you can pursue a Master of Social Work (MSW) degree. Some certifications require a master's degree in social work. Consequently, completing your education will give you the foundation for further specialization and help you develop the knowledge and skills needed to become an effective mental health social worker.
Additionally, graduate school programs are more intensive and can include practicums and internships that will give you hands-on experience working with individuals affected by mental health issues. Note that all the institutions of learning you choose to pursue any social work programs must be accredited by Council on Social Work Education (CSWE). Otherwise, you won't be able to become a licensed social worker.
2. Complete the Necessary Fieldwork
Once you have earned your social work degree, completing supervised fieldwork is the next step to becoming a mental health social worker. This typically involves working under an experienced clinician who will mentor and guide you in providing individual or group therapy, case management services, and other related activities.
These experiences offer valuable practice in working with individuals and families affected by mental health issues and help to prepare you for the realities of working as a mental health social worker. Besides, it also allows you to build your resume and network with other professionals in the field.
3. Obtain Licensure
To practice as a mental health social worker, most states require licensure. This typically involves passing an Association of Social Work Boards (ASWB) approved licensing exam and completing continuing education courses approved by your state's licensing board.
Furthermore, each state has unique licensure requirements, so it is vital to research your area's specific rules before applying. Licensure also provides an added layer of credibility and assurance that you possess the knowledge and skills to practice safely and effectively as a mental health social worker.
Day in the Life
A typical day in a mental health social worker's life can involve various activities. As a mental health social worker, you will be responsible for providing services to individuals, families, and communities affected by mental illness. You must assess the needs of those individuals and provide support and guidance to help them live more fulfilling lives.
Client work
The first thing you might do when starting your day is meet with clients recently diagnosed with a mental health disorder. During the meeting, you will assess their condition and help them develop a plan to manage their illness. This could include providing guidance on medication and therapy options or helping them find support groups or other resources. You may also provide emotional support by listening to their stories and giving them advice.
Research
After your initial meeting with the client, you might spend time researching different mental health programs in the community. This could include looking into counseling centers, residential treatment facilities, or other organizations that can assist those with mental illness. You may reach out to potential partners who can support your clients' journey toward recovery.
Meetings
Also, you might meet with other professionals, such as doctors or psychiatrists, to coordinate care for your clients. This could include taking referrals from a doctor and setting up an appointment for them to see a specialist or making sure that all medications are prescribed correctly.
Reports
Additionally, you may write reports on your clients' progress or work with other social workers in a team setting to help create a comprehensive care plan for each person. Coordinating care is essential for assisting individuals to manage their mental health issues successfully.
Professional development
You will also be responsible for attending meetings with other professionals, such as therapists and psychiatrists. You will coordinate care plans in these meetings and participate in training sessions or workshops to enhance your continuing education.
Community education
You may be involved in educating the public on mental health issues. This could include giving presentations to school groups and the community or talking to the media about mental health issues to raise awareness and reduce stigma around specific conditions.
Self-care
At the end of each day, taking time for yourself is crucial. This could include reading up on the latest research or engaging in a hobby that brings you joy. Taking a few moments to reflect on your day and all that you accomplished can help to provide closure and give you a sense of satisfaction.
Licensure, Certifications, and Continuing Education
Although the path how to become a mental health social worker differs from state to state, you generally must obtain licensure and certifications to provide safe and effective client services. As a result, you must take the time to understand your state's licensure, certification, and continuing education requirements since each state has its provisions to be met. With this knowledge, you can confidently provide quality services that benefit your clients and their families. Additionally, understanding these requirements will help ensure that you are working within the proper guidelines and regulations of the profession.
Licensure
Licensure is the act of granting permission by the state in which you plan to practice or work. To be eligible for licensure as a mental health social worker, you must meet the requirements set forth by each state's licensing board. Generally, this involves having a baccalaureate, master, or doctorate in social work from an accredited program, completing a certain number of field practicum hours, and passing the necessary examinations.
Certifications
On the other hand, certifications are a set of qualifications that show expertise within a specific area of practice. Depending on your state, certifications may be voluntary or mandatory for mental health social workers. You can obtain certifications such as Certified Clinical Social Worker (CCSW) or Certified Social Worker-Clinical Practice (CSW-CP). These certifications have specific requirements and must be renewed regularly.
Continuing Education
Upon completing your initial licensure and certification requirements, it is crucial to maintain them through continuing education or professional development activities. Continuing education helps ensure that social workers stay current on the latest mental health social work advances. Examples of continuing education activities can include attending workshops or seminars, taking courses, reading professional literature, and consulting with experts in the field. Depending on your state, you may be required to complete several hours each year to maintain licensure and certification.
Finally, once you become a licensed mental health social worker, you must stay informed about laws and regulations governing the profession. Each state has its own rules and regulations, so it is necessary to understand what is required in your practice area. Additionally, you should keep updated on changes in mental health practices, research, technology, trends, and resources available to social workers.
Getting Started
Becoming a mental health social worker means you care about people and want to make a difference. If you are just beginning your educational journey, or you are continuing, you'll want to inquire with a few schools to find out which program is the best fit.