How to Become a Medical Social Worker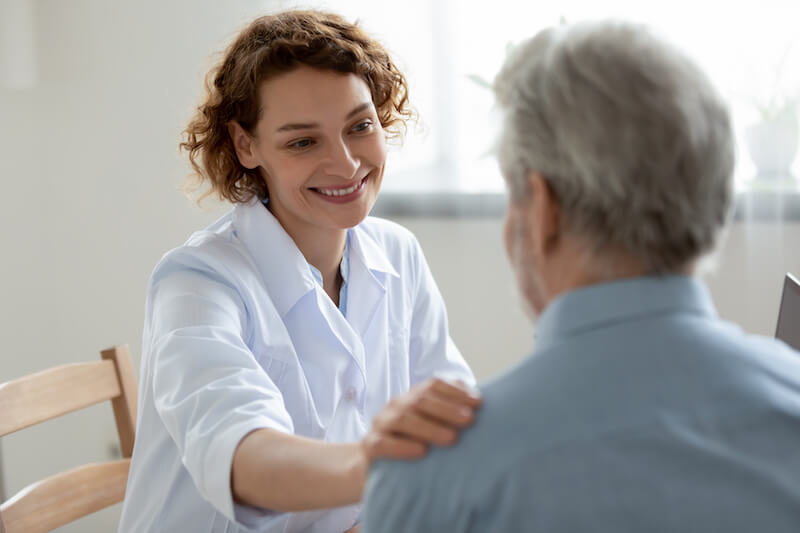 Social workers play a big part in helping people cope and deal with problems that affect their daily lives and well-being. Many of the problems stem from health and medical issues. Medical social workers are often the answer to their fears and issues. Medical social workers are an important part of any healthcare facility and are often a gift to the people they help. If you're wondering how to become a medical social worker, you'll find everything you need to know right here as well as wage and career information.
What is a Medical Social Worker?
A medical social worker is a professional who works with patients of all ages and helps them deal with and better understand the diagnosed illnesses and what they entail. They also provide patients and families with resources that can help them both financially and emotionally. They advocate for the patient. Medical social workers help families navigate through the medical and healthcare system.
Medical social workers may have very different job duties depending on their patients, but their main goal is to ensure that the patient and his or her families lead the healthiest lives possible. They work with clients dealing with medical and health challenges, like disabilities, illnesses, or injury-related hospitalizations.
Some medical social workers work in a specific area with a specific group of clients. There are various types of social workers. School social workers generally come to the schools to work with students and their family members. Regular social workers typically work in a government office and work with troubled individuals and often law enforcement.
Medical social workers are entirely different because they work in the medical field. Most of their time is spent working in physician clinics, hospitals, and similar healthcare settings. They play a major part in how well a patient deals with a health issue and what kind of help they get.
Career Outlook
Employment of social workers overall is expected to grow by 9% between 2021 and 2031. Medical and healthcare social workers are predicted to see an 11% job growth according to the U.S. Bureau of Labor Statistics(BLS). About 19,900 new jobs should open for medical social workers by 2031. As more people retire or change careers, there will continue to be more medical social workers hired. The number of people seeking medical help will continue to put these workers in demand.
As of 2021, there were about 199,300 medical social workers employed nationwide. As the aging population continues to need new medications and treatments, the need for medical social workers will continue to grow.
New York – 25,210
California – 14,430
Massachusetts – 11630
Texas – 11,350
Florida – 10680
Medical Social Worker Salary
Social workers overall tend to make good wages. Wage potential may depend on the type of social worker. Medical social workers typically make a slightly higher wage because of their skills and what they do. The BLS reports that healthcare and medical social workers earned an average annual salary of $62,760 in 2022. The wages ranged from as low as $38,520 to as high as $87,830.
The average hourly rate for these workers was $30.17. These wages are slightly higher than other types of social workers. Where you work, what experience you have, and what certifications you've earned can all play a part in determining wages. Here's an example of how wages can vary from one state to another.
California – $88,380
Oregon – $77,150
Rhode Island – $74,110
Connecticut – $73,720
Hawaii – $72,660
South Dakota – $45,490
Missouri – $47,190
Oklahoma – $48,420
Tennessee – $49,030
Mississippi – $51,040
As you can see, the wages can really vary from one state to another. The difference between California and South Dakota is $42,890, which is a substantial amount.
How to Become a Medical Social Worker
Earn a social work degree
Choose an area of specialty
Complete fieldwork requirement
Apply for licensure
Take and pass the certification exam
Apply for work in this field
Earn a degree
Although some social worker positions require only a bachelor's degree, medical social workers need a Master of Social (MSW) degree. Individuals who do not have a bachelor's degree will need to obtain a Bachelor of Social Work (BSW). If you already have a bachelor's degree, you can typically complete the master's degree program in one year. Candidates who do not have a bachelor's degree can expect to be in college for about six years. Medical social worker programs can be found at many colleges and universities.
Online programs
Some of the colleges also offer this program online. The online option is often beneficial to an individual who has a bachelor's degree and is currently working in the social work field. The student can gain more work experience, continue to earn money, and still earn the MSW degree.
Accreditation
When choosing a social work program, it's important to make sure it's accredited by the Council of Social Work Education (CSWE). CSWE-accredited programs include the curriculum required to become certified as a licensed social worker. It can also make a difference to a potential employer.
Choose a focus area
This is also the time when students will choose an area of focus, such as medical social worker or healthcare social worker. Medical social work students will have courses like medical social work, chemical dependency, human trafficking, loss and bereavement, and trauma care, among others.
Complete fieldwork
The student will also have to complete fieldwork or internships to earn the degree and be eligible for licensure. They need to be licensed to be able to treat emotional and mental disorders, diagnose disorders, provide counseling, and therapy services, and refer patients to other services and resources.
Sit for certification exam
To be eligible for the certification exam, students must complete at least two years of MSW employment with an agency that provides medical treatment to those in need. The fieldwork must be completed after the MSW is earned.
Earning the degree, completing fieldwork, and obtaining your license are the basic requirements to become a licensed medical social worker. However, there are other human and technical skills a medical social worker should possess.
Decision-making skills
Problem-solving skills
Excellent organizational skills
Interpersonal skills
Good written and verbal communication skills
Computer literacy
Advocacy
Crisis intervention
Case management
Day in the Life
Now that you know how to become a medical social worker, you're probably wondering what your day would be like as a medical social worker. As a medical social worker, you'll work with patients and clients of all ages.
You'll also be dealing the various types of diagnoses. As you can probably expect, you'll have a variety of duties, and they may change from day to day. Here are some examples of some of the duties that medical social workers perform throughout their day. Re
Working closely with nurses, physicians, and other healthcare professionals
Counseling patients and their family members when they're scared, uncertain, or in distress
Educating patients and their families about the issue and any possible treatment
Overseeing a new client's admissions to determine not only the patient's needs but also the needs of the family
Assessing the level of emotional and mental stress the patient is exhibiting
Assessing the patient's psychological and social status
Informing the patient and family members about any social support and financial help available to them
Offering crisis intervention to all involved
Working as an advocate for the patient and family members
Ensuring that the patient and family members understand how the medical system works in their case
Informing them of what options may be available to them so they can make the right decisions based on that knowledge
Initiating communication between the patient and the medical personnel
Recognizing any mental health issues that may arise and providing appropriate referrals
Assisting the patient with discharge or transfer to another facility
Almost any time patients are admitted to the hospital or the emergency room, they're scared, nervous, and under duress. Most of these feelings come from the uncertainty of what's wrong and what's going to happen. Medical social workers help the patient understand what's going on and what may happen.
After collaborating with healthcare professionals, they're able to speak honestly with the patient and the family members. Medical social workers can also address any social, financial, or psychological issues that may be associated with the patient's diagnosis. Medical social workers not only communicate with the patient but also with the health professionals handling the case.
By informing healthcare professionals of any specific needs the patient may have, the healthcare professionals are better able to treat them and understand the patient's behaviors or fears. They may also discuss any possible treatment options with the patient while explaining each option to the patient and his or her family members.
Medical social workers may also work in healthcare administrative roles, which allow them to manage healthcare programs, such as mental health and aging, or community outreach to name just a couple. The medical social worker is often the one responsible for calming down a patient and bringing them peace of mind.
Licensure, Certifications, and Continuing Education
Clinical or medical social workers are required to have a license in all states. Before you can become licensed, you must have the MSW degree and pass a certification/licensure exam. It's important to remember that states vary in their licensing requirements. Candidates can get information on their state's requirements through the Association of Social Work Boards.
There are various types of certifications a social worker can choose to pursue. One example is the Certified Social Worker in Healthcare (C-SWHC), which can be obtained through the National Association of Social Workers. Candidates must meet these requirements to be eligible to take the exam.
Must have the MSW degree from a CSWE-accredited program
Must have completed at least 3,000 hours or two years of paid social work employment under the supervision of a licensed social worker
Must hold a valid MSW license or have a passing score on the ASWB exam
The NASW also offers numerous certifications for different specialized areas of social work. Social worker licenses are generally good for one year. Social workers must complete a designated number of hours of continuing education to maintain certification.
Earning as many certifications as possible can enhance your resume and qualify you for more employment opportunities. Here are some additional certifications that can be beneficial to medical social workers.
Certified Nurse Assistant
Medical Assistant
Basic Life Support (BLS)
Certification in Forensic Social Work (CFSW)
Academy of Certified Social Workers Credential (ACSW)
Certified School Social Work Specialist (C-SSWS)
Certified Medical Interpreter – Spanish (CMI)
Diplomate in Clinical Social Work (DCSW)
National Clinical Supervision Endorsement (NCSE)
Advanced Certified Hospice and Palliative Social Worker (ACHP-SW)
Certified Hospice and Palliative Care Social Workers (CHP-SW)
Getting Started
A career as a medical social worker is a rewarding one. Inquire with a few programs to see which one is the best fit. Good luck!