How to Become a Child Social Worker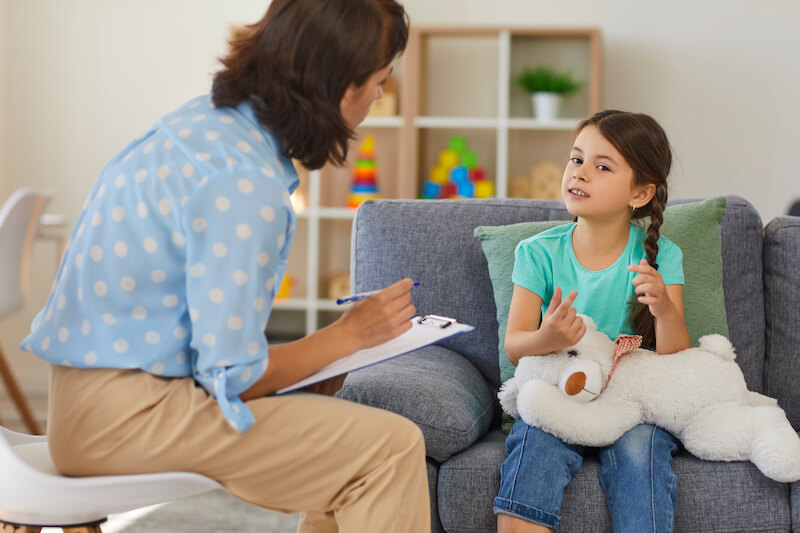 Social workers are professionally trained individuals who help children, adults, families, and groups cope with and prevent problems in their daily lives. Licensed clinical social workers treat and diagnose behavioral, mental, and emotional issues. While social workers can be beneficial to patients and clients of all ages, children often benefit more from child social workers. If you want to know more or would like to learn how to become a child social worker, continue reading and get the facts.
What is a Children's Social Worker?
A child social worker is a trained professional who works with and provides an important service to children and their families. Although child social workers are typically working in an office, in schools, or in the child's home, they work in a variety of employment settings. They play a very important part in ensuring a child is safe, healthy, and happy.
Child social workers are often part of one of two types of social workers:
Child, youth, and family social workers
Child welfare social workers
Their daily duties can vary depending on the type of work they are performing.
Child welfare workers can typically be found working in child welfare agencies or child protective services with their main duty being to protect children from neglect or abuse. Child welfare workers may also collaborate with schools, courts, and similar agencies to find the best solution for the children.
This may include therapy financial resources, academic services, and even removing them from the home. Aspiring child social workers interested in child welfare can find some valuable resources on the Children's Bureau website. Child social workers may also focus on a child suffering from specific issues, such as trauma, illness, ADHD, mental health issues, parents divorcing, death in the family, and more.
Career Outlook
With the increasing number of parents and teachers requesting help with their children and students, child social workers continue to be in demand. Child social workers are being called upon more and more to work with families and prevent child abuse, improve parenting skills, and find alternative living arrangements if needed.
According to the U.S. Bureau of Labor Statistics (BLS), child, family, and school social workers should see an employment growth of 8 percent between 2021 and 2031. This growth should result in about 29,100 new jobs for children, families, and school social workers by 2031.
The one thing that can hinder job growth is when these professionals are affected by budgetary cuts locally, federally, or statewide. The states that have the highest number of child, family, and school social workers employed as of May 2022 are:
| | |
| --- | --- |
| States | Number of social workers |
| California | 49,310 |
| New York | 23,740 |
| Texas | 20,770 |
| Pennsylvania | 19,810 |
| Illinois | 15,810 |
Child Social Worker Salary
If you're looking for a job to make you rich, this is probably not the career choice you want. However, if you want a challenging and rewarding career, this one fits the bill, and it does pay well.
As of May 2022, child, family, and school social workers earned an average annual wage of $50,820 with wages ranging from $36,380 at the low end and $81,920 at the top end according to the BLS. The average hourly wage was about $27.25.
Factors such as education, experience, certifications, employer, and location can all play an important part if determining wages. Below you will see the top five states that pay child social workers the highest wages followed by the five lowest-paying states for these workers.
| | |
| --- | --- |
| State | Median annual wage |
| New Jersey | $75,590 |
| Connecticut | $71,970 |
| New York | $70,690 |
| District of Columbia | $69,980 |
| Maryland | $66,850 |
| | |
| --- | --- |
| State | Median annual wage |
| Arkansas | $40,740 |
| Nebraska | $39,960 |
| Missouri | $38,750 |
| West Virginia | $37,110 |
| Mississippi | $36,300 |
How to Become a Child Social Worker
Earn a bachelor's degree
Obtain some experience
Earn a master's degree
Obtain licensure
1. Get a Bachelor's Degree
To become a child social worker, you must have at least a bachelor's degree in social work. The BSW (Bachelor of Social Work) is typically a four-year program. Some colleges offer this program online. In this case, the program can be completed in less than or more than four years.
Some aspiring child social workers choose to specialize in a specific area, like psychology, human development, or early childhood development. Some may even choose these areas as their major. Earning a bachelor's degree prepares the student for entry-level positions in social work and for licensure as a child social worker.
2. Gain Experience
Gaining experience working with children can be very beneficial for students pursuing careers as child social workers. Both the BSW and the Master of Social Work (MSW) programs include supervised internships or field placements so the student can obtain hands-on training. Whether you choose to earn a bachelor's degree, a master's degree, or both, it's important to choose a program that is accredited by the Council on Social Work Education.
3. Earn an MSW
Child social workers who want to work in clinical settings are required to have a master's degree in social work or a related field. Even if the individual isn't interested in working in a clinical setting, earning the MSW just makes good sense for a couple of reasons. They'll be eligible for more job opportunities with a master's degree. Social workers with an MSW typically earn quite a bit more than one with a BSW. If the cost of an MSW is a concern, students can check into Title IV-E funding for assistance.
4. Get Licensed
Licensure is required for social workers who wish to work in a clinical setting. Even if licensure isn't required, it's recommended for better pay and better social work career opportunities. Child social workers can obtain several types of licenses or certifications.
In addition to meeting education and training requirements, child social workers must possess specific character traits. Working with children can be very difficult and requires certain skills.
Good communication skills – Communicating with children can be difficult at best. It can be even more difficult when dealing with young and/or troubled children. The child social worker must have the ability to communicate well with children and parents.
Strong internal compass – Child social workers typically deal with children dealing with problems and issues often beyond their control. The social work must have compassion to be able to help the child and make him or her comfortable.
Interpersonal skills – As a child social worker, you'll be speaking with a variety of groups of people, including children, parents, teachers, social workers, and law enforcement. You need to be able to have a good relationship with all these different individuals.
Problem-solving skills – Children with serious issues often are in need of specific help. There are often various solutions the social worker can use, so it's important that the social worker be able to solve the problem and make the right choice.
Organizational skills – There is a lot of paperwork and documentation involved with social work, especially when a child social worker has several clients. The worker must have good organizational skills to be helpful and efficient on the job.
Day in the Life
A day in the life of a child social worker can vary in different directions because they have so many duties that can vary from one child to another. They use therapy and various types of treatment on children. An example of a child in need of a child social worker might be a pre-teen who is skipping school and getting into mischief.
Another example might be a young child who is grieving the death of a family member. While both children can benefit from a child social worker, their treatment will be very different because the age of the child and the situations are very different. A child social worker may also be responsible for removing a child from the home if the home is deemed to be unsafe.
Although situations are always different, there is one thing that's consistent in all situations. The child social worker must be able to develop a good rapport with the child and build the child's trust so they can communicate comfortably.
If the social worker can't solve the child's issue on her or his own, they often involve the legal and court system and make recommendations for the child. Although they typically work office hours, they may also be on call 24/7 to help in emergency situations. Their daily duties typically consist of the following.
Providing therapeutic support and counseling to children and their family members.
Responding to investigative reports about child neglect and abuse.
Participating in investigations regarding child abuse and neglect
Creating case plans regarding the child's future needs, such as reassessment and reunification.
Providing parents with resources and support to help them meet the needs of their children.
Documenting and maintaining case files on each child they work with as well as family members
Responding to emergency situations involving children and their family members
Assessing the child's psychological and social functions
Assisting parents and caregivers in improving their parenting skills and learning new parenting skills
Collaborating with parents and caregivers in coordinating educational needs or medical appointments
Acting as the child's advocate to ensure the child receives appropriate and adequate education, health services, and general care
Licensure, Certifications, and Continuing Education
Licensed clinical social workers are required to have a license in all states. Licensure is also required for those who want to work in private practice or in healthcare settings. Even some social workers not in clinical settings may be required to have a license or certification. This can vary from state to state. Any questions regarding licensure requirements in a specific state can be answered by the Association of Social Work Boards.
Certified Children, Youth, and Family Social Worker
There are a couple of different certifications a child social worker can obtain through the National Association of Social Workers. Upon earning the BSW, the candidate can pursue the Certified Children, Youth, and Family Social Worker credential. To be eligible for the C-CYFSW certification, you must meet these requirements:
Must have the BSW
Must have completed at least 1,500 hours of supervised, paid professional work experience.
Must have completed 20 contact hours of continuing education regarding interventions, bio-psycho-social issues, and working with children and their family members
Certified Advanced Children, Youth & Family Social Worker
Social workers who have the MSW can pursue the Certified Advanced Children, Youth & Family Social Worker credential. To be eligible for the C-ACYFSW certification, you must meet these requirements.
Must have an MSW
Must have at least 3,000 hours and at least two years of supervised, paid post-graduate work experience
Must have at least 20 contact hours of professional education regarding children, youth, and their family members
Some child social workers choose to pursue additional NASW certificates while they're earning their social work degrees. These certificates demonstrate that the student has the knowledge and competency in specific areas of child social work, such as abused children, child development, drug abuse, and more. In most cases, the candidate is required to pass an exam. Once a certification/license is earned, it must be maintained. This is usually accomplished by completing a specific number of continuing education credits.
Getting Started
Starting a career as a child social worker means you care about others and the community. Investigate a few schools that offer social work programs and see which one is the best fit.