How to Become a Geriatric Social Worker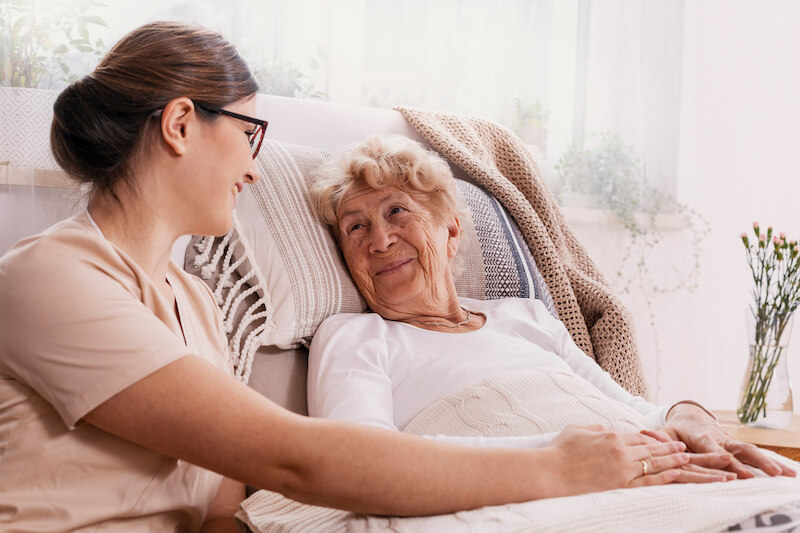 As our population ages, the demand for skilled professionals in geriatric care continues to increase. Geriatric social work is a highly specialized field that focuses on helping older adults and their families navigate the complexities of aging. These social workers play a crucial role in providing emotional support, advocating for seniors' rights, and connecting them with essential resources.
Are you passionate about making a positive impact on the lives of older adults? If so, then becoming a geriatric social worker could be a deeply rewarding career choice for you. But what are the steps you need to take to embark on this rewarding journey, and what are the essential skills required to succeed in this field? These are things you will need to know before you commit to a college degree program and trying to apply for jobs in the field.
What is a Geriatric Social Worker
Before getting into the process of becoming a geriatric social worker, it is extremely important that you understand the scope and significance of this compassion-based profession. Geriatric social workers provide close assistance and support to older adults facing several difficult challenges, including health issues, financial constraints, social isolation, and psychological distress. The primary goal of a geriatric social worker is to enhance the overall quality of life for senior citizens and to promote their autonomy and well-being to the highest degree possible.
Geriatric social workers work in many different settings within the community, including hospitals, nursing homes, assisted living facilities, hospices, and community centers. They often collaborate with an interdisciplinary team composed of healthcare professionals, family members, and other stakeholders. They do this to create comprehensive care plans that cater to everyone's unique needs and circumstances. Advocacy and empathy are integral to their everyday practice, as they go above and beyond to make sure that older adults receive the dignity, respect, and well-rounded care that they deserve.
Career Outlook
The career outlook for geriatric social workers is, for the most part, positive and promising, especially since there is a growing aging population and, therefore, a higher demand for specialized care for older adults. As the elderly population continues to expand, so does the need for professionals who can address the unique needs and challenges of older adults.
The world's population is aging rapidly, with a significant proportion of people being over the age of 65. In many countries, including the United States, Europe, and Japan, the number of older adults is expected to increase substantially in the coming years. This demographic shift drives the demand for geriatric social workers to provide care, support, and advocacy for seniors. Also, with the rise in the aging population, there is a parallel increase in the demand for healthcare services tailored to seniors. Geriatric social workers play a vital role in coordinating care, assisting with transitions between healthcare settings, and ensuring older adults receive appropriate services and support.
A lot of seniors would rather age in the comfort of their own homes and receive support there and in their communities. Geriatric social workers are pivotal in linking older adults with community resources, services for home care, and social programs. This makes aging at home an option for a lot of people. Nursing homes, assisted living facilities, and hospices are still critical providers for older adults with more serious needs. In these settings, geriatric social workers are in increased demand to advocate for seniors' rights, provide emotional support, and assist families when making complex decisions.
Life expectancy is on the rise, as is the need for palliative care and end-of-life support for seniors with terminal ailments. Geriatric social workers work as part of interdisciplinary palliative care teams, providing support and care up through end-of-life. Geriatric social workers address elder abuse, neglect, and exploitation. The need for care professionals who can protect vulnerable adults and intervene is on the rise.
Geriatric social workers tend to serve as advocates for seniors' rights and wellbeing. Their expertise is needed for making important policy decisions and advocating for more resources and enhanced services. Geriatric social workers may have opportunities for career advancement while working on the front lines of care. They can get promoted into higher roles, become program directors, or even make the leap into academic or research positions.
It is important to note that job prospects can vary based on location, experience and education, and the conditions of this job market conditions. Budget constraints in various healthcare systems or social service agencies may play a role in job availability.
Salary
The salary of a geriatric social worker can vary based on several factors, including one's education or experience level, geographic location, and the specific responsibilities of the social worker. Geriatric social workers earn competitive wages that reflect the magnitude of their work.
Geriatric social workers employed in hospitals, nursing homes, and other healthcare settings can expect to earn a median annual salary of $60,840. Those with a few years of experience can earn salaries closer to or above $80,000.
Social workers who have their own private practices or function as consultants may have varied earnings. Their income can depend on factors like the number of clients they serve and the fees they charge. Salary levels may vary based on the cost of living and demand for geriatric social workers in certain areas. Urban locations or regions with higher costs of living may offer higher salaries than rural areas.
Steps to Become a Geriatric Social Worker
Becoming a geriatric social worker involves a series of steps that revolve around getting education, experience, and licensure.
1. Earn your bachelor's degree
Start by obtaining a bachelor's degree in social work or a related field. While a bachelor's degree in social work is not always needed for entrance into graduate programs, having one makes it easier to get in and gives you a good foundation. During your undergraduate program, take courses that emphasize aging, gerontology, psychology, human behavior, and social welfare policies. These classes will help you gain a deeper understanding of the issues affecting older adults and the aging population.
Most geriatric social workers hold a master's degree in social work, specifically in gerontology or aging. Look for MSW programs that offer concentrations or specializations in geriatric social work. Choose an MSW program that is accredited by the Council on Social Work Education (CSWE). Accredited programs ensure that you receive a quality education and meet the necessary standards for professional practice.
3. Do a field placement or internship
Many MSW programs require students to complete supervised field placements or internships, including those that focus on geriatric care. These experiences offer direct learning opportunities and help you cultivate practical skills needed for working with older adults.
4. Apply for licensure
After you finish your MSW, you will need to get your social work license to practice as a geriatric social worker. Licensing requirements vary by state, so check with your specific state's licensing board for its guidelines. You can pursue optional certifications in geriatric social work to enhance your credentials and demonstrate expertise, even though this is usually optional. The National Association of Social Workers (NASW) gives options for the Certified Advanced Social Work Case Manager (C-ASWCM) and Certified Clinical Gerontological Social Worker (CCGSW) certifications for geriatric social workers.
5. Complete professional development requirements
Ongoing professional development and continuing education are important to stay current with best practices, research, and changes in the field of gerontology. Also, before you begin a full-time position, you might want to work part-time or volunteer in places that serve older adults. This experience will allow you to gain valuable insights, create professional relationships, and show your commitment to the field.
6. Network
Networking with professionals, attending conferences, and joining gerontology or aging-related associations can teach you more about job opportunities and keep you informed about the latest developments. You can use job search websites, social work job boards, and contact organizations to ask about job openings. You should write your resume and cover letter to highlight your passion for geriatric care and relevant experiences.
7. Specialize
Once you have more experience, consider specializing in a certain area of geriatric social work, such as dementia care, palliative care, or elder abuse prevention. Specialization can bring you more social work career opportunities and lets you become an expert in a particular aspect of care.
Day in the Life
A day in the life of a geriatric social worker can vary based on a lot of different factors, but for the most part, geriatric social workers do many of the same things. The day often begins with the social worker reviewing emails, messages, and any urgent matters that demand your immediate attention. Social workers might plan their schedule for the day and prepare for meetings and appointments with clients.
Geriatric social workers often perform client evaluations so as to assess their physical, emotional, and social needs. This can involve visiting clients in their homes, in nursing facilities, or in hospitals. Based on the assessments, social workers develop personalized care plans and interventions to address the clients' needs and improve their quality of life.
Social workers frequently collaborate with healthcare professionals, such as doctors, nurses, and therapists. Together, they can coordinate care of their clients. They discuss treatment plans, changes in condition, and medication management. Geriatric social workers often meet with the families of older adults to offer support, discuss care plans, and give guidance on services and resources. They may create family meetings to help with decisions related to the client's care.
Geriatric social workers advocate for their clients' rights and needs, ensuring they get the kind of care and services they require. They provide referrals to community programs, financial assistance, and support groups. Social workers are critical when it comes to identifying signs of elder abuse, neglect, or exploitation. If they suspect it is happening, they can report these incidences to the authorities.
Some social workers get involved in community outreach and education initiatives to help promote awareness for aging-related issues, services, and resources. Social workers often engage in team meetings and supervision sessions with colleagues and supervisors to get help, talk about cases, and enhance their professional development. Geriatric social workers may reflect on the day's events at the end of the day and record them.
Licensure, Certifications and Continuing Education
The road to becoming a geriatric social worker requires that you follow certain steps. Here, we'll reiterate the requirements to become a geriatric social worker.
Obtain a bachelor's degree
The journey to becoming a geriatric social worker typically starts with obtaining a bachelor's degree in social work or a related field from an accredited four-year college or university. During your undergraduate studies, you will gain a foundational understanding of social work principles, human behavior, diversity, and social welfare policies. You should think about enrolling in courses that focus on gerontology and lifespan development to gain a better understanding of issues impacting older adults.
In most cases, you can become a geriatric social worker with a BSW, but you must have 20 hours of coursework in geriatric studies and three years or 4500 supervised hours of work with older adults.
Continue for your master's degree
While a bachelor's degree is a necessary – and great – starting point, most geriatric social workers hold a Master of Social Work (MSW) degree. Pursuing an MSW allows you to specialize in gerontology and gain valuable hands-on experience through internships and field placements. When you are in the process of choosing a graduate program, look for accredited institutions with robust geriatric social work concentrations or specializations. You will need to be sure that accreditation is given in your state of practice.
Obtain state-mandated licensure and certification
After completing your MSW, you will need to obtain a social work license in the state where you intend to practice. Licensing requirements will vary by state, but they usually involve passing a licensing exam and completing a particular number of supervised practice hours. What's more, you may choose to gain optional certifications offered by organizations like the National Association of Social Workers (NASW) or the National Association for Geriatric Education (NAGE). Doing so can enhance your job opportunities and annual salary. The NASW offers a Social Worker in Gerontology credential that can be earned post-BSW.
The Association for Geriatric Healthcare Professionals has a helpful section on the pathways to various careers in geriatric social work: Clinicians, educators, administrators, researchers and more.
Getting Started
A career as a geriatric social worker is rewarding and very much in demand. The first step is education, and you should inquire with a few schools to find the program that is the best fit for you.